Accidental stains from highlighter ink on clothing can be frustrating, but with the right approach, you can effectively remove them. Acting swiftly and employing appropriate stain removal techniques are key to achieving successful results. If you've accidentally stained your clothes with highlighter and want to remove the stain using items readily available at home, there are a few methods you can try. The following steps outline a general method for getting highlighter out of clothes. By promptly addressing the stain, pre-treating with detergent or stain remover, rinsing thoroughly, and following proper laundering procedures, you can increase your chances of completely eliminating the highlighter stain. It's important to remember that different fabrics may require specific considerations, and testing the cleaning solution on a small area is recommended. For valuable or delicate garments, professional cleaning assistance might be advisable.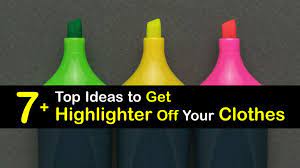 1. Supplies you'll need:
Paper towels or clean cloth
Lemon juice or vinegar
Baking soda
Water
Clean sponge or soft brush
Cold water
2. Blot the stain:
Start by blotting the stain gently with a paper towel or clean cloth. Avoid rubbing the stain to prevent it from spreading further.
3. Lemon juice or vinegar:
Saturate the stained area with lemon juice or white vinegar. You can either apply it directly or soak the stained fabric in a mixture of equal parts lemon juice or vinegar and water for a few minutes.
4. Baking soda paste:
In a separate container, create a paste by mixing baking soda with a small amount of water. The consistency should be similar to that of toothpaste.
5. Apply the baking soda paste:
Spread the baking soda paste onto the stain, covering it completely. Gently rub the paste into the fabric using a clean sponge or soft brush. Leave the paste on for about 15 minutes to allow it to work on the stain.
6. Rinse and check the stain:
Rinse the fabric under cold water to remove the lemon juice or vinegar and the baking soda paste. Check if the stain has lightened or disappeared. If the stain is still visible, repeat steps 3-6 until you achieve the desired result.
7. Launder as usual:
Once the stain is no longer visible, wash the garment as you normally would. Follow the care instructions on the clothing label and use an appropriate laundry detergent.
Remember, different fabrics may react differently to stain removal methods, so it's always a good idea to test any cleaning solution on a small, inconspicuous area of the fabric first. Additionally, if you're dealing with a delicate or valuable garment, you may want to consider seeking professional cleaning assistance to avoid any potential damage.